Ajax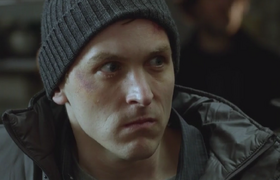 ---
---
---
---
---
Ajax is a member of Vargas' gang.

He showed a propensity for violence, once advocating the gang murder two NYC policemen who pulled them over for a broken tail light. He was wounded in the leg in a shootout with Mr. Su's men, when Vargas refuses to pay them more money.
After being taken to a warehouse, Ajax was laid on a couch and Reese and Michael Cahill created a tourniquet for him. However, he had already lost a lot of blood and Reese admitted he wasn't likely to survive, especially as they weren't taking him to the hospital. Cahill was able to use Ajax's phone to warn Detective Byrne of the situation and after Reese "confessed" to being the traitor, Vargas told Cahill Ajax had died. Vargas attempted to burn Ajax and Reese's "body" in the trunk of a car, but Reese escaped. ("Blue Code")
A few months later, Agent Donnelly tells Detective Carter that Ajax's body was found in the trunk of the burned-out car along with Reese's fingerprints and carbonized blood. ("Many Happy Returns")
Ad blocker interference detected!
Wikia is a free-to-use site that makes money from advertising. We have a modified experience for viewers using ad blockers

Wikia is not accessible if you've made further modifications. Remove the custom ad blocker rule(s) and the page will load as expected.