Alain Bouchard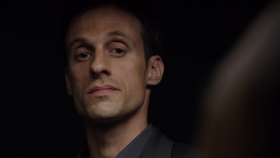 ---
---
---
---
---
---
Alain Bouchard is an agent working for Interpol. He was pursuing Kelli Lin for a series of artifact thefts.
Character Background
Bouchard is at an investigation in the aftermath of robbery at a party being held by Kelli, who is posing as an event manager. He explains to an NYPD officer how he has been tracing a female thief of Asian ethnicity for over a year and how she has continuously slipped away.
Bouchard gets a call from Fusco, who informs him of a lead at Kelli's apartment. He gives Bouchard the address and asks him to look for clues, as this will keep him distracted from Reese and Finch's work to help Kelli get her daughter back.
Bouchard bumps into Kelli as she leaves her apartment, and since Kelli knows he can't prove anything, Bouchard warns her that she will be caught the next time she tries anything.
After learning that Kelli is planning to steal an artifact called the Gutenberg Bible from a building owned by a company called Symmetric Security, he requests the security supervisor to investigate. Though the guards apprehend Reese during his attempt at a distraction so Kelli and Shaw can steal the Bible, the guards realize their mistake and Bouchard goes with them to find the Bible. He arrives to see the case empty.
Bouchard frantically makes calls to Interpol when Shaw comes with a gun to his side and orders him to enter Finch's vehicle. Finch takes Bouchard outside a bar where Kelli meets with her employer, Cyril, and has him listen in on their communications to learn the truth about Kelli: she was being forced to steal after the extortion ring kidnapped her daughter. Bouchard is shocked and calls off the investigation.
Following Cyril's capture at the hands of the NYPD as well as Kelli's, Bouchard meets with her in an interrogation room. After boasting about his achievement, he says he "always thought it was a shame". Kelli asks if he is referring to her life of crime, but Bouchard surprises her by saying he was talking about her life before that, and that she "deserved the gold" - a reference to her being only a silver medalist from her life as an Olympic athlete. He places a key for exiting the cell on her table before leaving her looking on speechlessly.
Ad blocker interference detected!
Wikia is a free-to-use site that makes money from advertising. We have a modified experience for viewers using ad blockers

Wikia is not accessible if you've made further modifications. Remove the custom ad blocker rule(s) and the page will load as expected.