Alice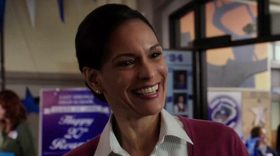 ---
---
Occupation
Party organizer
---
---
Alice is a party organizer at the 20th anniversary reunion of East Springs High School.
Character Background
Alice hands Reese and Shaw their name tag badges when they arrive at the party to keep an eye on POI Matthew Reed. She later informs them that there will be bowling night and ballroom dancing as part of the event.
Alice is present when aesthetic contraptions trigger displaying the death of Matthew's girlfriend Claire Klein, as part of Matthew's attempt to torment classmate Doug Hemmill with memories of her death and remind him that he was the one responsible.
Ad blocker interference detected!
Wikia is a free-to-use site that makes money from advertising. We have a modified experience for viewers using ad blockers

Wikia is not accessible if you've made further modifications. Remove the custom ad blocker rule(s) and the page will load as expected.