Andrew Monahan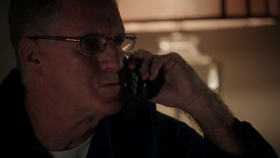 ---
---
---
---
Residence
New York, NY, USA
---
---
---
---
---
Judge Andrew Monahan was a New York City judge affiliated with HR.
Character Background
Detective Joss Carter called Monahan late one night seeking an arrest warrant for Alonzo Quinn. Monahan questioned her to see if she had gone to the DA's office with her evidence and then told Carter to come right over. After hanging up, Monahan called Quinn, who asked to know everything Carter told the judge.
When Carter arrived at Monahan's house, the judge led her straight to Quinn, who was lying in wait with Patrick Simmons and some HR lieutenants. They had laid a sheet of plastic on the floor and it was clear that they intended to kill her. Unbeknownst to them, Carter had called on Reese and Finch before arriving and they had used Quinn's phone to record their incriminating conversation. Following a gun battle in which Quinn was wounded by an HR member, Reese and Carter escaped with Quinn.
Afterwards, a very troubled Monahan warned Simmons that they were all facing felony murder charges. Simmons assured the judge Carter would be taken care of but that they needed to come up with a plausible cover story to explain the multiple shootings that had just taken place. He asked Monahan if there was a firearm in the house and when the Judge showed him where he kept it he removed it from a drawer and chambered a round. Monahan asked what the cover-up story would be, and Simmons replied that "robbers broke into your home, they looted the place... and shot you. " With that, Simmons shoots Monahan dead. ("The Crossing")
Ad blocker interference detected!
Wikia is a free-to-use site that makes money from advertising. We have a modified experience for viewers using ad blockers

Wikia is not accessible if you've made further modifications. Remove the custom ad blocker rule(s) and the page will load as expected.