Aris Zappo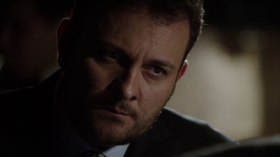 ---
---
---
---
Residence
New York, NY, USA
---
Affiliation
Symmetric Security
---
---
Aris Zappo is the CEO of Symmetric Security.
Character Background
While helping Kelli Lin steal the Gutenberg Bible from Symmetric Security to help protect her daughter, Reese posed as a powerful businessman part of a nuclear plant company. He met with Aris to discuss nuclear engineering and security and managed to convince him to give him access to Symmetric Security's building.
At the building's parking garage, Aris entered his credentials into the entry login, and while in the elevator, he asked Reese if he really had a nuclear trigger in a briefcase he was carrying. Reese responded with a "no" and knocked out Aris.
Ad blocker interference detected!
Wikia is a free-to-use site that makes money from advertising. We have a modified experience for viewers using ad blockers

Wikia is not accessible if you've made further modifications. Remove the custom ad blocker rule(s) and the page will load as expected.