Barbara Russell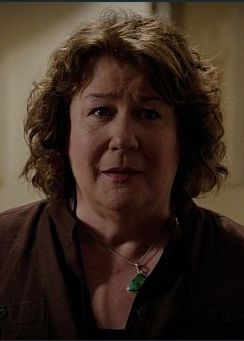 ---
---
---
Occupation
Librarian (Formerly)
---
---
---
Barbara Russell (née Tomkins) is a librarian from Texas, who knew Samantha Groves since she was a teenager.
Barbara was present at the library the night in 1991 that Hanna Frey disappeared. She was one of the last people to see Hanna alive. Hanna's friend Samantha Groves saw Hanna get into the car with Trent Russell and told Barbara. But as Barbara was in love with Trent she refused to believe Samantha and scolded her for telling lies. She eventually married Trent, but he was murdered in 1993. The murder was never solved, but he had been set up by Samantha, now the hacker Root, in revenge for Hanna's disappearance. Over the years, on the anniversary of Hanna's disappearance, Barbara would receive a copy of Flowers for Algernon, the book Hanna checked out of the library before her disappearance.
In 2012, Barbara is interviewed by Carter and Reese about Hanna's disappearance after the Machine gives Reese Hanna's number as a clue towards the hacker Root. Barbara lies that she doesn't know anything and meets the two again when they go to her house to interrogate Trent after discovering his connection to Hanna's disappearance. Barbara tells them of Trent's murder and after finding that his car has the same license plate as the one described by Samantha in her 911 call but off by one digit, they call in Sheriff Landry to help them interrogate Barbara. Reese eventually leaves after finding the books which provide him a clue to Root while Carter and Landry continue to interrogate Barbara. Finally, after listening to Sam's 911 call, Barbara admits to intimidating Sam due to her love for Trent. No longer sure of her husband's innocence, Barbara tells them that Trent redid their patio two weeks after Hanna's disappearance. Barbara watches as the police dig up her patio and discover Hanna's body. Remorseful for her role in covering up Hanna's murder, Barbara tearfully retreats inside her house before Hanna's body is removed.
Ad blocker interference detected!
Wikia is a free-to-use site that makes money from advertising. We have a modified experience for viewers using ad blockers

Wikia is not accessible if you've made further modifications. Remove the custom ad blocker rule(s) and the page will load as expected.