Beat Cop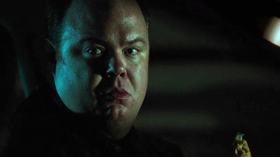 ---
---
---
---
Residence
New York, NY, USA
---
---
---
The Beat Cop is a corrupt police officer and a member of HR.
The cop was helping patrol an area guarded by HR. He was interrogated by Sameen Shaw, who handcuffed him to the wheel, put a grenade in his hand, and asked him where Patrick Simmons had taken Fusco.
The cop begged Shaw to let him go, saying that if he crosses Simmons, Simmons will ensure that his loved ones die. Shaw exits, but leaves the grenade in the cop's hand and throws its pin in the back of the car for the cop to find it.
Ad blocker interference detected!
Wikia is a free-to-use site that makes money from advertising. We have a modified experience for viewers using ad blockers

Wikia is not accessible if you've made further modifications. Remove the custom ad blocker rule(s) and the page will load as expected.