Bill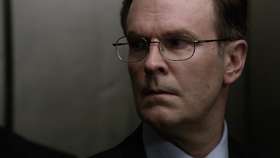 ---
---
---
Residence
New York, NY, USA
---
Family
Unnamed wife
Unnamed lover
---
---
Bill is a businessman who was saved by John Reese.
On his way to meet his lover, Bill is on an elevator along with two other men when John Reese entered. Reese revealed he knew about Bill's affair, and outed the two other men as hit men hired by his wife. Reese kneecapped the two men, and recommended to Bill that he call the police and a good divorce lawyer. Carter is later called to the scene, because according to Bill's police statement, "some gentleman in a suit" was involved.
Ad blocker interference detected!
Wikia is a free-to-use site that makes money from advertising. We have a modified experience for viewers using ad blockers

Wikia is not accessible if you've made further modifications. Remove the custom ad blocker rule(s) and the page will load as expected.