Billy Parsons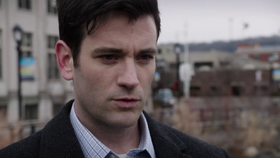 ---
---
---
---
---
Billy Parsons is a car thief.
Character Background
Billy is one of the eight inmates being transported during a prison transfer. He sees a body on the ground and tells the driver to stop, and one of the guards goes out to see what happened. He is tazed by Root, and the other guards go to see what's going on, and are tazed as well. Root comes into the vehicle and takes Billy with her, ignoring the flirtatious inmates.
Outside, Root gives Billy a recording of a German man and tells him to learn a German accent, as well as replicate a signature. She also gives him a razor to shave. She finds a suit for him, which he changes into, and the two are photographed by Root's temporary Japanese assistant Daizo. She informs Billy that "her boss" and her are stopping something bad from happening, and Daizo gives Root an ID card of German DOD worker Gunter Schmitz. She gives it to Billy and sends him into the building.
Billy is given a tablet from a guard who checks his ID. Billy signs it using the signature Root gave him earlier and fakes a German accent to thank the guard when he notices that "Schmitz"'s "hair has changed". Billy walks out Root as the real Schmitz enters.
Root thanks Billy for his help and instructs him to his future cell block cafeteria, sit in a particular seat and tell a specific inmate that he shares his love for dinosaurs. She kisses Billy on the cheek and leaves, just as police the arrive to arrest Billy.
Ad blocker interference detected!
Wikia is a free-to-use site that makes money from advertising. We have a modified experience for viewers using ad blockers

Wikia is not accessible if you've made further modifications. Remove the custom ad blocker rule(s) and the page will load as expected.