Brad Jennings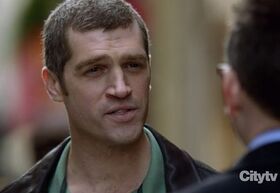 ---
---
---
---
Date of birth
October 16, 1971
---
Occupation
Deputy U.S. Marshal
---
Residence
79 Mountain View, Denver
---
---
---
---
Brad Jennings is a Deputy U.S. Marshal married to Sarah Jennings, whom he physically and emotionally abused. When she ran away and hid under a false name in New York, he used his authority as U.S. Marshal to find her by making her look like a fugitive. He tracked her down and captured her. He prepared to kill Sarah, but Reese was able to rescue her and stop him.
Reese eventually took care of the situation by framing him as a drug dealer and delivering him to Torreón penitentiary in Mexico.
Notes
Reese also stole Jennings' badge and occasionally uses his credentials as an alias. This draws him the ire of Carter when he uses it to gain access to a crime scene. ("

Shadow Box

")
Jennings was working as police officer in 1993 and a criminal investigator in 1999.
Ad blocker interference detected!
Wikia is a free-to-use site that makes money from advertising. We have a modified experience for viewers using ad blockers

Wikia is not accessible if you've made further modifications. Remove the custom ad blocker rule(s) and the page will load as expected.