Brian Frey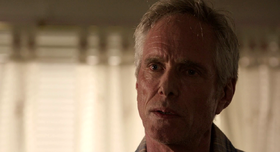 ---
---
---
---
---
---
Brian Frey is Hanna Frey's father.
In 1991, a 14-year old Hanna disappeared and was never found. Brian believed Cody Grayson to be responsible and beat him with the help of his brother, resulting in Cody losing sight in one eye, but never found her. Over the years, Brian received credit card offers for Hanna in the mail.
In 2012, Brian is visited by Detective Joss Carter who is looking for Hanna in hopes of finding Root. Brian isn't able to help much but gives Carter one of the credit card offers he got for Hanna. Carter is eventually able to discover that Trent Russell murdered Hanna and buried her body under his patio. Sheriff Judd Landry and his men locate Hanna's body and return it to her father who gives her a proper burial. During the investigation, Brian gives Carter a picture of Hanna's friend Samantha who Carter realizes is Root.
Ad blocker interference detected!
Wikia is a free-to-use site that makes money from advertising. We have a modified experience for viewers using ad blockers

Wikia is not accessible if you've made further modifications. Remove the custom ad blocker rule(s) and the page will load as expected.