Brian Moss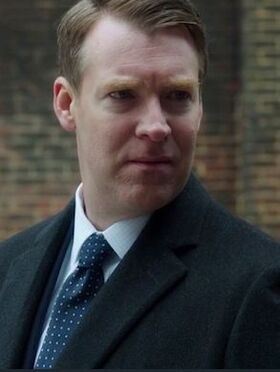 ---
---
---
---
---
---
---
---
Brian Moss is an FBI Special Agent in charge (SAIC) of investigating the death of Nicholas Donnelly.
Special Agent in Charge Brian Moss first appears at the scene of the car crash that killed Nicolas Donnelly, where he meets Carter. He tells her that Donnelly's superiors were worried that he was paranoid but Carter tells him that Donnelly was a good agent.
He later meets Carter in the precinct and tells her that they identified the two "suicide bombers" near the Department of Defense building as Kara Stanton and Mark Snow. Moss says that Snow matches the description of The Man in the Suit that Donnelly was chasing and figures he killed him when Donnelly got too close. He tells Carter that the FBI now considers the case closed. ("Dead Reckoning")
He later meets with Carter in her office and tells her that he is open to having Donnelly's request to promoting her to the FBI granted and informs her that she will have to pass a lie detector, before she can get into the FBI. He later delivers the agent using the lie detector on Carter a file with Cal Beecher, that has accusations about him. ("Booked Solid")
He helps Carter with an investigation into an elusive serial killer and upon her asking warns her again against her association with Cal Beecher. ("Proteus")
Appearances
Season 2
Ad blocker interference detected!
Wikia is a free-to-use site that makes money from advertising. We have a modified experience for viewers using ad blockers

Wikia is not accessible if you've made further modifications. Remove the custom ad blocker rule(s) and the page will load as expected.