This article is not up to date!

It requires updating and revision to include recent character or story changes. Your help is greatly appreciated!



Bruce Moran
---
---
---
Occupation
Investment advisor
Accountant
---
Residence
New York, NY, USA
---
---
---
---
Bruce Moran is an investment advisor and the private accountant of his childhood friend, Carl Elias.
Character Background
Moran, Elias and Anthony Marconi grew up in a harshly disciplinarian boys' group home together. Following Elias' rise as a mob boss, Moran became his private accountant and handled his finances secretly.
Moran and Elias meet at Brighton Beach to discuss matters following Dominic's pursuit of Elias. Link secretly photographs them while Reese observes everything.
Dominic is aware that Moran is a pivotal element within Elias' empire and makes plans to eliminate him to cripple Elias' defense.
Moran revisits Elias at the beach following Marconi's death, and Elias makes plans to relocate Moran to a new office to refrain from meeting inconspicuously and under paranoia.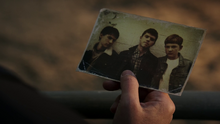 Elias pulls out a picture of the three when they were young, and after Moran leaves, Elias plans his revenge against Dominic.
Four months after Samaritan exterminated Dominic and other high-ranking mobsters, Bruce was seeking revenge for Elias's death. He and a few of Elias's closest allies wanted to get the information from Fusco and Reese about the shooter. After knocking off all of Elias men, Reese led Moran to the safe house when Bruce found Elias, who got treated for his gunshot. Elias explained that there is a new player out there, and they have no other option as stay in the shadows. Moran rejected that, saying they must fight against it. Soon after that, he left the safe house. ("ShotSeeker")
After leaving the safe house, Moran was targeted and killed by Samaritan agents. Fusco finds his body in a tunnel with a dozen other missing persons. ("A More Perfect Union") Fusco later reports Moran's death to Elias who is grief-stricken by the loss of his friend. ("Reassortment")
After returning from Washington, DC, Fusco learns that the bodies of Moran and all the other people killed by Samaritan and dumped in the tunnel have been found. Fusco is taken to be executed by Special Agent Martin LeRoux, a Samaritan operative. Fusco tells LeRoux that he believes Jeffrey Blackwell killed Moran and the others but LeRoux reveals himself to be the true killer. LeRoux later tries to murder Fusco with the same gun he used on Moran and his other victims, making it look like Fusco got too close to the "serial killer", but is overpowered and killed by Fusco instead. (".exe") ("return 0")
Appearances
Season 4
Season 5
Ad blocker interference detected!
Wikia is a free-to-use site that makes money from advertising. We have a modified experience for viewers using ad blockers

Wikia is not accessible if you've made further modifications. Remove the custom ad blocker rule(s) and the page will load as expected.