Chris Scollard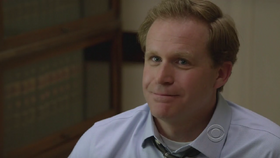 ---
---
---
---
Residence
New York, NY, USA
---
---
---
Chris Scollard is Andrea Gutierrez's former friend who worked at the DFS.
Scollard was actually running a fake foster care home scam with Dominic Galuska, making a quarter million dollars every month.

When Andrea got too close to discovering the truth he tried to kill her but she hit him with a baton given to her by Reese and ran away. Before he could kill Andrea, John Reese burst into the room and exchanged fire with Chris. Chris was shot in the shoulder by Reese and fled outside where Detective Joss Carter was waiting for him and arrested Chris.
Notes
The character's real-life namesake is a visual effects supervisor on the set of Person of Interest.
Ad blocker interference detected!
Wikia is a free-to-use site that makes money from advertising. We have a modified experience for viewers using ad blockers

Wikia is not accessible if you've made further modifications. Remove the custom ad blocker rule(s) and the page will load as expected.