Cody Grayson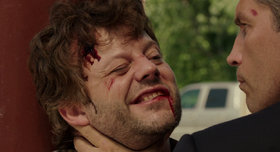 ---
---
---
---
---
Cody Grayson was a classmate of Hanna Frey and had a crush on her.
Almost everybody in Bishop, TX, including Hanna's father believed that Grayson killed Hanna and thus he had been attacked and treated with suspicion by many there. As a result of the attacks, Cody was left blind in one eye. When Reese went to question him about Hanna he attacked Reese but was easily subdued. He told Reese that there was nothing he could do to him that the town hasn't already done and insisted that he didn't kill Hanna. Reese came to believe that Cody was in fact telling the truth.
After Carter proved that Trent Russell killed Hanna and recovers her body, Cody is finally exonerated.
Ad blocker interference detected!
Wikia is a free-to-use site that makes money from advertising. We have a modified experience for viewers using ad blockers

Wikia is not accessible if you've made further modifications. Remove the custom ad blocker rule(s) and the page will load as expected.