Connie Wyler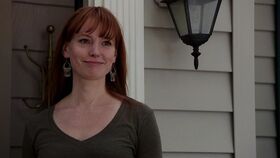 ---
---
---
Residence
New York, NY, USA
---
---
---
Connie Wyler is Graham Wyler's wife and Izzy Wyler's mother.
She runs a hardware store with her husband and doesn't know about Graham's past as a safe cracker and thief.
Even after Graham confesses his past crimes to her she decides to stay with him and still loves him. She also later thanks Reese for helping her husband.
Ad blocker interference detected!
Wikia is a free-to-use site that makes money from advertising. We have a modified experience for viewers using ad blockers

Wikia is not accessible if you've made further modifications. Remove the custom ad blocker rule(s) and the page will load as expected.