Cura Te Ipsum
Talk

0
746pages on
this wiki
Cura Te Ipsum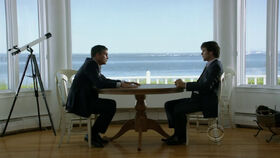 ---
---
---
---
---
---
---
---
---
Co-stars
Lee Fusco - Sean McCarthy


Nurse - Almeria Campbell
Intern - Brendan Titley
Therapist - Kim Sykes
Scumbag - Kevin Henderson
Cartel Heavy - Philip Hernandez
Police Officer - Jorge Cordova


Redhead - Laura Woyasz

"Cura Te Ipsum" is the fourth episode in Season 1, and overall the fourth produced hour of Person of Interest. It originally aired on October 13, 2011.
New York, NY
Edit
Dr. Megan Tillman is working at the city hospital in the ER. Finch is in a room, complaining of back pains, and explains that his doctor is in the Caymans. He asks for a refill of his pain medication and Megan checks his x-ray. She comments that he's had surgery within a last year but he avoids telling her and just asks for the prescription. As Megan fills his prescription, Finch replaces her pager with a duplicate. Once she leaves, Finch checks to make sure that he can control the ER cameras with a remote.
Reese begins watching Megan 24/7, a workaholic who works double-shifts and lives alone, but is well-liked by everyone. As Reese follows her, she buys food from a street vendor and a young businessman bumps into her. That night, Megan dresses up and goes out to a bar. One guy hits on her and she turns him down, and Reese spots something metallic in his jacket pocket. He grabs him in the bathroom and confirms that it's a Blackberry, and then continues watching Megan. The businessman from earlier is near Megan and bumps into him, taking his wallet. Reese checks the man's ID and confirms that his name is Andrew Benton and he's carrying roofies.
Back at base the next day, Reese tells Finch that Megan returned home at 3:30, and she's been at the club every night of the week. They check Benton and confirm that he's an investment banker with a string of sexual harassment and stalking charges against him. However, he's never been formally charged. Reese breaks into Benton's apartment, downloads the information from his computer, and finds a stash of heroin.
Carter is checking the footage from the evidence locker robbery. She figures that one of the men is Reese and notices that he talked briefly with Finch, who the records show is a paralegal at a law firm.
Reese and Finch examine Benton's computer files and find photos of him with numerous women. However, there's nothing to connect him to Benton. Finch turns up an expunged college record and Reese says that he'll get it from Fusco. His partner warns against it, saying that Fusco will eventually turn on Reese.
Fusco is playing street hockey with his son when a cartel mobster, Diaz, approaches him. Diaz wants the stolen drugs that Detective Stills, Fusco's former partner, took from them. Fusco says that he doesn't have it but Diaz gives him 48 hours to produce the million dollars in cocaine or Fusco's son will pay the price.
Reese goes back to the bar that night to watch Megan, who sits at the bar and drinks. Benton finally approaches her and she introduces herself as Kate. He flirts with her and she goes out to get some fresh air. Benton goes with her and they walk down the street and chat. He invites Megan back to his place but she gently turns him down, saying she has to work early. However, when Benton goes home, Reese follows Megan and learns that she's stalking Benton.
Fusco meets Reese in the park to hand over the college file, but first he wants Reese to protect him from the Diaz and the Toreros Cartel. Reese isn't interested, saying that he has plenty of crooked cops that can help him, and leaves with the file. Back at base, Finch confirms that Benton sexually assaulted a college girl after giving her roofies. She filed charges two days later out of shame, and the physical evidence was inconclusive due to the delay. The girl was Gabrielle Tillman, Megan's sister, and one year later she killed herself with a drug overdose. They figure that Megan is going to kill Benton to get revenge, but Reese figures that she's a doctor and taking someone's life will destroy her.
Carter goes to see Finch at his phony address. She asks him about the robbery and Finch has nothing new to add. She points out that it looks like one of the robbers said something to him, and Finch says that the man told him to stop staring at him. When Carter points out that most people look away, Finch says that he's not like most people and all he said was to let him go. Carter seemingly accepts his story and gives Finch her card so that he can call her if he remembers anything else.
That night, Reese watches a police captain meet with a prostitute. Finch calls to warn him that Carter is on his trail, and Reese assures him that he already has a plan by making a new friend on the police officer who will help them with Fusco and Carter. Megan goes to a rape victim support group and Reese follows her there. After the meeting, Reese talks to Megan in the hallway. She says she knows someone other than the woman talking, and Reese says that he lost someone close to him. Megan explains that it took her years to piece together what happened to her friend, and then she saw the man responsible and it all came back. Reese tells her that everyone needs someone to talk to and introduces himself, and Megan gives her name as Kate Leman.
Back at base, Reese figures that Benton gives his targets drugs, rapes them, and then they're too embarrassed to file charges. Finch runs the name Kate Leman and tracks it to a rental home in Montauk. Reese checks it out and finds a closet filled with containers of lye. He realizes that Megan plans to kill Benton and then dispose of the body. Reese is sure that Megan will get away with it, but the guilt will ruin her life. He suggests that they prevent Megan from doing it by making Benton disappear.
Fusco goes to the cartel apartment to deliver the money and is surprised to see Reese there. He's even more surprised when Reese kicks in the door and takes out Diaz and his men. He then takes the cartel's money and assures Fusco that it's going to a good cause. Next, Reese walks up to Benton's car as he stops at an intersection. He knocks him out, puts the cocaine in the car, and drops it off in front of police headquarters. However, the next day Reese watches with Fusco as Benton's lawyers get him out in short order. Fusco is more interested in dealing with the cartel and threatens to blow the whistle on Reese. Reese dares him to do it and Fusco stays silent.
Megan is at home preparing for her assault on Benton and listening to the last message that Gabrielle left on her answering machine before she killed herself. Finch tracks the GPS in her pager and warns Reese that she's on the move. Reese is at Benton's office and prepares to move out, but Diaz and his men approach him and knock him out.
Benton arrives at his apartment and discovers that the security system is shut down. He goes inside and Megan tasers him unconscious, ties him up, and straps him to a wheelchair so she can move him out.
Reese wakes up at the cartel hideout, and discovers that Fusco is there. Diaz explains that Fusco paid them off by turning Reese over to them, and then has his men start beating Reese.
Megan loads Benton into her rented van and drives away.
Diaz demands that Reese give them the cocaine, and Reese bluffs, saying that he knows that Diaz is working with a rival cartel to betray his boss. The cartel man is surprised at what Reese knows, and his men start to question him. While they squabble, Reese gets free and takes them down. He promises Diaz that if they meet again, he'll kill him, and then heads for the door. Fusco says that it was nothing personal, and Reese tells him that he's called in a favor and has arranged for Fusco to do something else for him. He tells Fusco not to do it again and walks away.
When Megan stops at a diner for gas, she spots an officer nearby. Reese comes in, reveals that he knows who she really is, and invites her to sit with him and have a cup of coffee. Rather than make a scene, Megan sits down with him. Reese tells her that if she kills Benton in cold blood, it will destroy her, and that she'll never really get away with it. Megan asks what Reese would have done if the person he lost was killed, and Reese says that he knows what it means to take a life and that it costs the killer the part of himself that matters the most. She wonders if that's what happened to him, and warns that Benton has seen her face and can identify her. Reese says that he'll have a little talk with Benton and asks for the van keys, and she asks what she'll get. He tells her that she'll get her life back, and Gabrielle will get to keep her memory of her sister. Megan asks why he's there, and he says the same thing he said earlier, that everyone needs someone to talk to. Crying, Megan gives him the van keys.
Finch finally reestablishes contact with Reese, who confirms that he has the van and Benton. He says that they're going to have a little talk, and then asks Finch why he saves people. Finch only says that he has his reasons, and Reese tells him that their problem with Carter is taken care of.
Captain Womack brings in Fusco and assigns him to a particular desk, and then tells him to have Reese send him the photos he has of Womack with a prostitute. As Fusco settles in next to Carter, e introduces himself to her.
Reese takes Benton to Megan's rental house in Montauk and sits him down at a table. As Benton wakes up, Reese puts a gun down on a table and explains that the woman who tased Benton is gone. He explains that Megan fixes people while he and Benton break them. When Benton wonders what he plans to do, Reese asks him if people change, and that they both have hurt people. Benton insists that it's all a mistake, and then says that he's crossed some lines and won't do it again. Reese says that he could let Benton go, since he knows that Reese will be watching him for the rest of his life. He wonders if he and Benton can change, but then figures that people don't really change. Benton insists that both of them can change, and that he doesn't believe Reese will kill him because he's a good person deep down. Reese chuckles and says that he lost that part of himself a long time ago, and isn't sure if he can find it again or it if matters. He contemplates the gun and says that there are no good people, only good decisions. Benton begs Reese to spare his life and Reese asks Benton to help him make a good decision.
Cura Te Ipsum is a latin injunction, translated to "Cure yourself." It is used to tell physicians to take care of themselves first. It was said by Jesus to his disciple Luke,who was himself a healer or physician.
Production Notes
Edit
"Exceeder" by Mason - Music playing at the bar where Megan Tillman approaches Andrew Benton.
Bloopers and continuity errors
Edit
When doctor Tillman puts Benton into the wheelchair, we can see someone's hand holding the wheelchair for her (around 30' of the episode).
Recurring Themes
Edit
Double-life
The title means 'take care of yourself' in Latin, and it refers to being able to heal your wounds, and take good care of yourself. The episode involves women who have been the victim of sexual assault and rape while being under the influence of 'rape drugs', carrying the emotional scars with them. The biggest and most difficult challenge is to choose to live on, even without the prospect of the offenders to be prosecuted. The women will remain forever broken, or will commit suicide. In the case of Dr. Tillmann, she will seek vengeance for the death of her sister (who has committed suicide after being sexually assaulted). The title refers to making the right decision without further harming or destroying your life and that of others. Dr. Tillmann is pursuaded by Reese to make the right decision: let Andrew Benton live so that she can keep up her curriculum as an excellent physician, and so that Reese can make Benton "disappear". This way, he will never commit anymore sex crimes, and the death of Dr. Tillmann's sister is "rightfully avenged".
The loss of someone very close: Reese has lost his lover, Jessica, as he "wished he could be there to save here", and Dr. Tillmann has lost her sister. Indirectly, this also refers to Finch, who also has lost someone very important to him (that someone would be revealed to be Grace Hendricks, his fiancée, or Nathan Ingram ).
"And maybe you could change. And maybe so could I. 'Cause the truth is, people don't really change, do they?" -Reese
"Maybe it's up to me to do what the good people can't. Or maybe there are no good people. Maybe there are just good decisions." -Reese
"Which do you think I'll regret more? Letting you live or letting you die? Andrew, help me make a good decision." -Reese
References
Edit