Daniel Burnside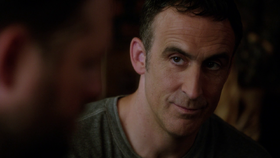 ---
---
---
---
Residence
New York, NY, USA
---
---
---
Daniel Burnside is a thief.
Along with Chris Vaughn and Graham Wyler, Burnside was responsible for a string of robberies. Burnside and Vaughn were arrested during one of their heists because Wyler deemed it too dangerous and sat it out.
After they were released from prison, Burnside and Vaughn found Wyler and forced him to help them with one last job, planning to kill him once it was over. However, Reese was able to rescue Graham. Daniel, Vaughn and the rest of their crew were. arrested by the police.
Ad blocker interference detected!
Wikia is a free-to-use site that makes money from advertising. We have a modified experience for viewers using ad blockers

Wikia is not accessible if you've made further modifications. Remove the custom ad blocker rule(s) and the page will load as expected.