Darren McGrady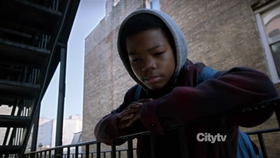 ---
---
---
---
Residence
New York, NY, U.S.
---
Family
Travis McGrady - brother
---
---
---
Darren McGrady is a boy whose older brother was murdered. He planned on shooting the men who did it, but Reese prevented this from happening. He has a keen interest in drawing, playing the trumpet, and "The Art of War" by Sun Tsu.
After his brother Travis was murdered by Andre Wilcox's men he wanted to get revenge and decided to kill the men responsible. However John Reese stopped him and promised that his brother's killers would be brought to justice but there would be no killing.
Reese fulfilled his promise and Andre and his men were arrested. Before going off to live with his foster family Darren gave Reese a sketch of them as partners. Reese also pulled some strings to get Darren's trumpet back for him and to get him into a school where he can foster both his musical and artistic talents.
Trivia
The episode title, "

Wolf and Cub

", refers to Reese and Darren with Reese representing the Wolf and Darren its (adopted) Cub.
Ad blocker interference detected!
Wikia is a free-to-use site that makes money from advertising. We have a modified experience for viewers using ad blockers

Wikia is not accessible if you've made further modifications. Remove the custom ad blocker rule(s) and the page will load as expected.