Drost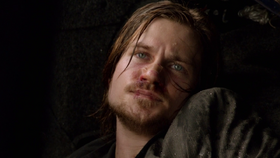 ---
---
Residence
New York, NY, USA
---
---
---
Drost is a member of SP-9.

He and Turski kidnapped Samuel Gates, Jr. and murdered his nanny. He also shot Reese in the shoulder while kidnapping the boy.
He is later knocked out by Reese and put in the trunk of the same car where Turski is being held. Reese then unties Turski's hand and tells him to get the name of their boss from Drost in exchange for food. Turski is able to get the information.
He was later arrested with Koska and Angela Markham and the other members of SP-9. Detective Lionel Fusco is also able to connect him to the murder of Sam's nanny, Christina Rojas, ensuring he gets sent to prison for that crime as well.