Agent Easton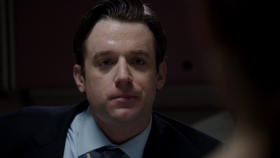 ---
---
---
---
Occupation
Secret Service Agent
---
Affiliation
US Secret Service
---
---
Agent Easton was a member of Arthur Claypool's Secret Service security detail.
Because he wasn't an experienced field agent, Easton made some questionable decisions regarding Claypool's protection. These included leaving Claypool unaccompanied during a PET scan, locking Shaw up in an office without searching the room and not making sure his own food was safe to eat. These mistakes respectively allowed Elizabeth Ross to interrogate Claypool, Finch to contact Shaw via cell phone and Vigilance to drug him.
Ad blocker interference detected!
Wikia is a free-to-use site that makes money from advertising. We have a modified experience for viewers using ad blockers

Wikia is not accessible if you've made further modifications. Remove the custom ad blocker rule(s) and the page will load as expected.