Ed Griffin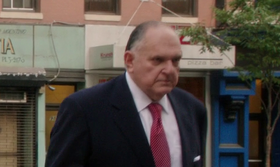 Played by
Richard V. Licata
---
---
---
Occupation
Mayor of New York City
---
---
---
Ed Griffin is the Mayor of New York City.
Griffin was a Councilman who ran against Assistant D.A. Landon Walker. He won the election by a landslide after his opponent was framed to be the head of HR by Alonzo Quinn, Griffin's campaign manager and the actual head of HR.
Quinn's actions led to Maxine Angelis's designation as a POI and Christopher Zambrano's death. After Ed Griffin was elected mayor, Quinn became his Chief of Staff.
Ad blocker interference detected!
Wikia is a free-to-use site that makes money from advertising. We have a modified experience for viewers using ad blockers

Wikia is not accessible if you've made further modifications. Remove the custom ad blocker rule(s) and the page will load as expected.