Ed Solis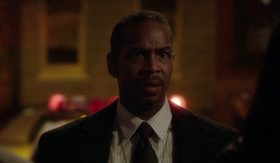 ---
---
---
---
Residence
New York, NY, USA
---
---
---
Ed Solis is a detective with the Internal Affairs Bureau.
Solis arrived at the crime scene where a drug dealer suspected of murdering Cal Beecher was shot and killed by Carter.
Raymond Terney, as per HR's instructions, conspired to remove the suspect's gun which led Solis to accuse Carter of gunning down an unarmed man. The accusation would later lead to Carter being demoted to patrol officer.
Ad blocker interference detected!
Wikia is a free-to-use site that makes money from advertising. We have a modified experience for viewers using ad blockers

Wikia is not accessible if you've made further modifications. Remove the custom ad blocker rule(s) and the page will load as expected.