Ethan Mattson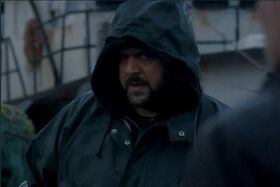 Occupation
Fisherman
Drug Smuggler
---
---
---
---
Ethan Mattson is a fishermen on Owen Island. He was a suspect for being the elusive serial killer.
Eventually it is reveled that he was smuggling drugs. He attempted to kill Reese with a spear gun after Reese discovered his drug stash, but was knocked unconscious by him. However he managed to recover himself and attacked Reese. He then attempted to dump Reese into the river while he was unconscious, but Reese woke up and knocked him out again with a paddle.
He was later visible being loaded into a police car after the storm was over.
Ad blocker interference detected!
Wikia is a free-to-use site that makes money from advertising. We have a modified experience for viewers using ad blockers

Wikia is not accessible if you've made further modifications. Remove the custom ad blocker rule(s) and the page will load as expected.