Garcia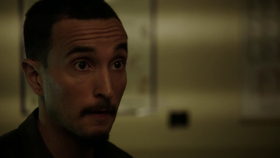 ---
---
---
---
---
---
Garcia is the leader of the Trinitarios.
He was first seen working for HR when he and his fellow Trinitarios cornered Reese and Carter on the subway, in their attempt to collect the bounty on Reese's head. Reese easily subdued them and threw them out the train. ("The Crossing")
He is later seen in as the leader of the Trinitarios working with The Brotherhood. He tried to kill Alex Ortiz who was working as a mole for The Brotherhood but was stopped by Bear, Reese and Silva. He is later shot on Dominic's order due to him not following orders. ("Point of Origin").
Appearances
Season 3
Season 4
Ad blocker interference detected!
Wikia is a free-to-use site that makes money from advertising. We have a modified experience for viewers using ad blockers

Wikia is not accessible if you've made further modifications. Remove the custom ad blocker rule(s) and the page will load as expected.