Gianni F. Moretti, Sr.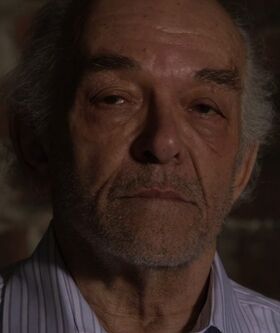 ---
Name
Gianni F. Moretti, Sr.
---
Nickname
Don Moretti
The Blade
---
---
---
Social Security #
XXX-XX-9128
---
---
---
---
---
---
Don Gianni F. Moretti, Sr. was the former lover of Marlene Elias, and the father of Carl Elias and Gianni Moretti, Jr.
Character Background
When Carl Elias was eight, Moretti had Marlene Elias killed by one of his lieutenants, most likely in front of his illegitimate son, giving Elias a traumatic experience leading to his becoming a crime boss. It is also implied that DeLuca was drunk when he killed Marlene.
1991
While eating at a restaurant, Moretti met his son formally for the first time. Elias was working for his organisation after getting in through a man named Lou. Moretti promised a place in his organisation to Elias so long as he remained tenacious and loyal.
Moretti later ordered Elias' execution, having no intention of working with his illegitimate son. The execution failed however when Elias managed to kill both his executioners and escape. ("Flesh and Blood")
2011
He was shown to be in custody because he had his lover killed and likely other criminal activity. He was interrogated by Detective Joss Carter, who was trying to find information about Elias. However, he didn't give Carter any information and simply warned her that Elias may come after her. ("Get Carter")
2012
After Moretti was released from jail, Elias set his sights on killing his father. He had some of his goons try to kidnap him, but they failed due to Carter and John Reese's timely intervention. Moretti was taken to a safe house where he remained until Elias eventually learned his location. Scarface severely injured his police guard Bill Szymanski and kept his father captive. ("Baby Blue")
Moretti remained in Elias' custody until he was rescued by Reese alongside Taylor Carter, who was being held at the same location. Soon after Elias' arrest, Moretti reunited with his son. As they prepare to drive off, Moretti finds a phone ringing in the car's glove compartment along with a picture of the murdered Marlene Elias. The caller is Elias who repeats the words Moretti had left with the assassins he sent to kill Elias in 1991. Moretti stares in shock, realizing what's about to happen moments before Scarface detonates a car bomb, killing Moretti and his son. ("Flesh and Blood")
2013
During their attempt to assassinate Elias, Raymond Terney and Peter Yogorov take him into the woods and remind Elias of Moretti's failed attempt to kill him years before in similar manner. When Elias questions the point of bringing that up, Terney suggests that "what goes around comes around" since they are going to kill Elias in similar circumstances. However, their attempt is foiled by Detective Carter. ("God Mode")
2015
While hunting the Voice with Harold Finch, Elias takes him to a man named Raul and thanks him for supplying the bomb he used to kill Moretti. ("Sotto Voce")
Appearances
Season 1