Gina Kincaid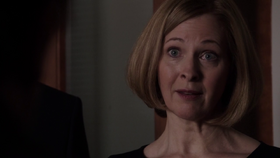 ---
---
---
---
Residence
New York, NY, USA
---
---
---
Gina Kincaid is the co-owner of a New York business along with her husband, Ron.
Character Background
After Gina found out about an affair between Ron and an employee, Tara Cooke, Gina had Tara murdered and the death covered up as a car accident. To conceal the evidence, Ron hired a mysterious man with connections to a Mexican gang to kidnap a young boy named Aaron, and then force Sandra Nicholson, a 911 operator, to erase the call records from the past two days to destroy the evidence, under the threat that Aaron would die if she did not comply.
After detectives Lionel Fusco and Jake Harrison of the NYPD investigated the case and learned that Tara was murdered, they confronted Ron and Gina in their office, where they confessed. Gina was unaware of the kidnapping, however, and both of them were arrested. After their arrest, the man Gina hired ended his blackmailing of Sandra, since the Kincaids had confessed. Harrison later tells Fusco that the Kincaids hired lawyers, but the carpet fibers found on Tara match with those in Ron's car and with the 911 call, they should be able to convict the two.
Ad blocker interference detected!
Wikia is a free-to-use site that makes money from advertising. We have a modified experience for viewers using ad blockers

Wikia is not accessible if you've made further modifications. Remove the custom ad blocker rule(s) and the page will load as expected.