Gordon Kurzweil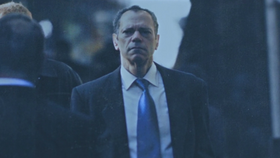 ---
Occupation
DIA case officer
---
---
Gordon Kurzweil is a DIA case officer and the first known relevant person of interest whose Social Security Number (498-00-3145) was generated by the Machine.

Character Background
Kurzweil had a top secret security clearance and routinely passed FBI background checks over a 20 year period.
The Machine identified him as possible threat in November 2002 when he stopped at a gas station in Towson, MD two hours after an SUV that was registered to the wife of a Turkish oil executive who paid for plane tickets used by an Iranian suspect in a bombing incident in Buenos Aires in 1994.
For the next three years, Kurzweil acted as a model citizen until he broke pattern by picking up a mobile phone that was dropped by a Syrian businessman in a park in Bethesda. Via coded SMS, Kurzweil then arranged to sell 26 pounds of weapons-grade uranium to the Iranian government.
On February 8, 2005, Nathan Ingram provided his Social Security Number to Alicia Corwin as a proof of concept for the Machine's effectiveness. Agents scrutinized Kurzweil and detected his attempt to strike a deal with Iran. He was arrested. A newspaper article Harold Finch and Nathan Ingram look at online later shows that he pled guilty to espionage.
Notes
The character never appeared in person in any of the episodes. His name was mentioned by Denton Weeks, and Finch later explained his case to Nathan Ingram in flashback scenes in "

Super

".
Gordon Kurzweil's name may be a reference to Ray Kurzweil, an inventor and engineer, who has written widely about artificial intelligence as well as developing optical and speech recognition devices.
Ad blocker interference detected!
Wikia is a free-to-use site that makes money from advertising. We have a modified experience for viewers using ad blockers

Wikia is not accessible if you've made further modifications. Remove the custom ad blocker rule(s) and the page will load as expected.