Heinlein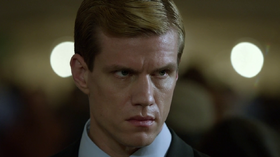 ---
---
---
Affiliation
German Intelligence
---
---
Heinlein is a German BND agent sent by his government to re-capture Ulrich Kohl secretly.
He was knocked out by Reese and questioned by Carter and Fusco. Heinlein eventually told them about Kohl and the threat he represented. But before he could give them any more information he was extracted by the German Consulate.
As he was being driven to the airport, John Reese shot out the engine of his car with a sniper rifle with the aid of Harold Finch. Reese asked Heinlein on where to find Anja Kohl but Heinlein told him he couldn't tell him, backed by the Consulate agent. However, Heinlein discreetly slipped Reese a piece of paper with Anja's new name and address on it and told Reese to save Anja if he can. ("Foe")
Ad blocker interference detected!
Wikia is a free-to-use site that makes money from advertising. We have a modified experience for viewers using ad blockers

Wikia is not accessible if you've made further modifications. Remove the custom ad blocker rule(s) and the page will load as expected.