Holly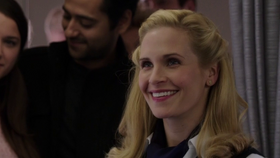 ---
---
---
Occupation
Flight attendant
---
Affiliation
Zephyr Airlines
---
---
Holly is a flight attendant on Zephyr Airlines.
Character Background
Holly is one of the flight attendants on a Zephyr Airlines 747 headed to Rome, Italy. She is present when Reese boards the flight in an attempt to leave Finch and his team.
When the Machine forces Reese to protect Owen Matthews, Holly is initially confused as to what's going on, but Reese enlists her help in keeping the passengers calm and making sure the flight runs as planned.
Reese and Holly work together to keep the plane safe, and Reese is able to take down the assassins sent after Owen. Following the flight, Holly flirtatiously requests a drink with Reese, and says goodbye to him in Rome when getting into a taxi.
Ad blocker interference detected!
Wikia is a free-to-use site that makes money from advertising. We have a modified experience for viewers using ad blockers

Wikia is not accessible if you've made further modifications. Remove the custom ad blocker rule(s) and the page will load as expected.