Hosking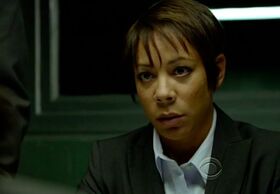 ---
---
---
Residence
New York, NY, USA
---
---
---
Hosking is an NYPD Internal Affairs officer.
She, along with Officer Diski, interrogated Carter regarding the fatal shooting of her confidential informant Bottle Cap. According to Carter's report, an unknown person came to her rescue and saved her by shooting Bottlecap. They aggressively questioned Carter regarding Reese's alleged appearance at the crime scene and implied that Carter may very well be working with the "Man in the Suit".
Carter chose to terminate the interview when questions were raised by Hosking about her possibly communicating with Reese, telling her that if they wanted to interview her again, she would insist on having her union delegate present.
Carter was later cleared of any misconduct or wrongdoing. ("Get Carter")
Ad blocker interference detected!
Wikia is a free-to-use site that makes money from advertising. We have a modified experience for viewers using ad blockers

Wikia is not accessible if you've made further modifications. Remove the custom ad blocker rule(s) and the page will load as expected.