Detective Jake Harrison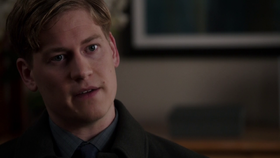 ---
---
---
Occupation
Police detective
---
Residence
New York, NY, USA
---
---
---
---
Detective Jake Harrison is a rookie NYPD detective who was recently transferred to the 8th precinct. He helped Fusco on a homicide case.
Character Background
Harrison met Fusco at the station and was assigned the same case as his: Tara Cooke, a victim of a car crash.
Following some investigation, the two observed the bruises on Tara's arm in a photograph and because investigators found carpet fibers in the wound, Fusco and Harrison realized that Tara was murdered. They went out to investigate.
The two went to Tara's workplace, owned by Ron and Gina Kincaid. The two said that they were worried for Tara, and Fusco asked permission to further investigate the building.
Following some evidence connections with a case that Reese and Finch were working on, Fusco realized that they were working the same case and that Gina ordered Tara killed following an affair between her and Ron. Reese and Finch's POI Sandra Nicholson, a 911 operator, was being ordered by a mysterious phone caller (hired by Ron) to erase the 911 phone call made by Tara before she was murdered.
After the completion of the case, Harrison told Fusco that the two make a pretty good team, but Fusco denied it, implying Carter.
Ad blocker interference detected!
Wikia is a free-to-use site that makes money from advertising. We have a modified experience for viewers using ad blockers

Wikia is not accessible if you've made further modifications. Remove the custom ad blocker rule(s) and the page will load as expected.