Jefferson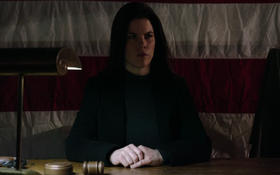 ---
---
---
---
---
---
---
---
Jefferson is a member of Vigilance who has been working with Peter Collier since 2010. She was there when Collier made a statement by killing one of of the group's members, who turned out to be working for the FBI. ("Deus Ex Machina")
Jefferson and Collier successfully captured Control, Ross Garrison, Manuel Rivera, and Kyle Holcombe at the Carlton Hotel to take them to trial. ("A House Divided")
At Vigilance's kangaroo court Jefferson acted as the judge, and witnessed Rivera get killed after he failed to answer Collier's questions about the Machine. She also heard the others' testimonies, including Finch's statement that he was the creator of the Machine.
She was among the many Vigilance members who tried to escape but were later killed by police officers after receiving intel from Samaritan. ("Deus Ex Machina")
Ad blocker interference detected!
Wikia is a free-to-use site that makes money from advertising. We have a modified experience for viewers using ad blockers

Wikia is not accessible if you've made further modifications. Remove the custom ad blocker rule(s) and the page will load as expected.