Jeremy Campbell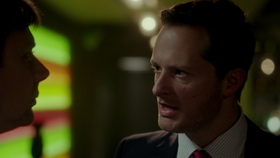 ---
---
---
---
---
---
Jeremy Campbell is the lawyer of Logan Pierce. In fact Friendczar.com is the law firm's only client.
When Jeremy found out that Logan was about to drop him as his lawyer, he decided to kill him. As Jeremy had filled out Logan's medical insurance application he knew Logan was allergic to Naproxen. He spiked Logan's drink with it, but Reese was able to save his life. He was eventually identified as the attempted killer when Reese sent the decanter containing the alcohol to Detective Carter who found Campbell's fingerprints on it. Carter was able to identify Campbell since his fingerprints were in the system as an officer of the court. After being exposed by Reese, Jeremy tries to intimidate him, but Reese simply grabs his finger, twists him to the ground and handcuffs him. He is presumably arrested for his attempted murder of Pierce afterwards.
Ad blocker interference detected!
Wikia is a free-to-use site that makes money from advertising. We have a modified experience for viewers using ad blockers

Wikia is not accessible if you've made further modifications. Remove the custom ad blocker rule(s) and the page will load as expected.