Sheriff Judd Landry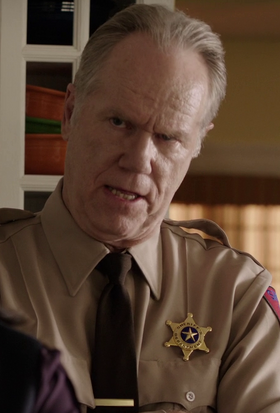 ---
---
---
---
---
---
Sheriff Judd Landry is the Sheriff of Bishop, TX
He was tasked with finding Hanna Frey after she disappeared in 1991, but wasn't able to. This haunted him for the next twenty years.
When Carter asks him for the file on Hanna, Landry refuses to cooperate, so Reese steals it while he's distracted. After discovering the license plate on Trent Russell's car matches Hanna's abductor with a transposed digit, the two call Landry who helps them interrogate Barbara Russell.
Landry plays the 911 tape to Barbara who tells them that Hanna's friend Samantha told her it was Trent and she intimidated her into silence. After Barbara tells Landry Trent redid his patio two weeks after Hanna disappeared, he and his deputies dig it up and find Hanna's body underneath.
Ad blocker interference detected!
Wikia is a free-to-use site that makes money from advertising. We have a modified experience for viewers using ad blockers

Wikia is not accessible if you've made further modifications. Remove the custom ad blocker rule(s) and the page will load as expected.