Justin Ogilvy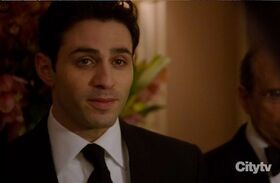 ---
---
---
Occupation
CEO of Friendczar.com
---
---
---
Justin Ogilvy is the CEO of Friendczar.com, along with his best friend Logan Pierce.
Justin and Logan had been friends for over 10 years, since their days at CalTech. While Logan is the face (and brain) of Friendczar, Justin looks after the business side of things. Although Justin was once honest and hardworking, success made him greedy and corrupt. He started bullying their competition and hitting them with lawsuits for patent violations. This put him at odds with Logan.
Justin found out that Logan was going to go into business with Emily Morton. He realized that Emily's social networking program would cannibalize Friendczar.com and decided to kill Logan so that he couldn't go through with the deal. However Reese was able to intervene and save Logan's life and Justin was arrested by the police.
Ad blocker interference detected!
Wikia is a free-to-use site that makes money from advertising. We have a modified experience for viewers using ad blockers

Wikia is not accessible if you've made further modifications. Remove the custom ad blocker rule(s) and the page will load as expected.