This Article is Under Construction

or is currently in the middle of development, expansion or major revamping.
Lassiter, Iowa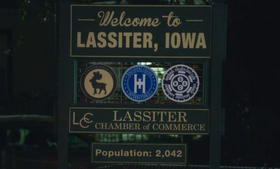 ---
---
---
---
---
---
Lassiter is a town in Iowa, United States, and Harold Finch's hometown.
Notable Events
January 25, 1969: Young Harold is living with his father, who has begun to show early signs of dementia. He demonstrates an acute awareness of mechanics when he dismantles his father's truck engine [specifically the carburetor] to discover why it will not run, all in the short time that his father stepped away to take a phone call. He also displays an interest in the local birds. ("

Lethe

")
March 11, 1971: Harold builds an early proto-computer that can repeat Morse signals that he inputs into it. He expresses a desire to create a machine capable of replacing his father's failing memory. His father's dementia continues to get worse. ("

Lethe

")
November 4, 1979: Harold's "Phone Phreaking" activities have brought him under the surveillance of the FBI, which has not yet identified him, but has begun to collect a dossier of his illegal activities. His father's condition has deteriorated to the point where he begins wandering away from home. A local police officer suggests his father may require institutionalization. Harold's father tells him he doesn't want him to avoid college because of him, but Harold tells him of a new electronic network that will allow the education to come to him. ("

Lethe

") Harold later prepares to admit his father to a care center for the treatment of his memory disorder. ("

Aletheia

")
October 27, 1980: Harold is being investigated by the Department of Defense for an ARPANET Outage Data Breach resulting in his indictment for treason. Harold visits his father and tells him that men will visit him to tell him what his son has done and asks that he not believe them. Sadly, his father no longer recognizes him. Harold also presents his father with a book titled "Eastern Birds" by Roger Tory Peterson to help him remember the birds they used to spot together when Harold was a child, then kisses his father on the head before leaving. ("

Aletheia

")
Harold's Home
Other Places
Ad blocker interference detected!
Wikia is a free-to-use site that makes money from advertising. We have a modified experience for viewers using ad blockers

Wikia is not accessible if you've made further modifications. Remove the custom ad blocker rule(s) and the page will load as expected.