Leila Smith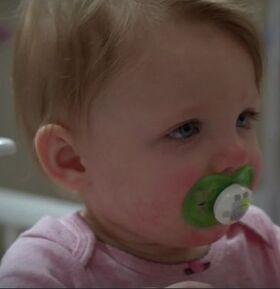 ---
---
---
Residence
New York, NY, U.S.
---
Family
Claudia Cruz - mother
Adnan Petrosian - father
Sammy Cruz - grandfather
Veda Cruz - grandmother
---
---
Leila Smith is a six-month-old infant girl and a safe haven baby. She was named Leila Smith by Nurse Mary Abbot of St. Raymond's Clinic when she filed for her social security number. Her father's wife killed her mother and hired a group of people to kidnap her for sale in Eastern Europe.
Finch took her from the hospital before the she was taken from the U.S. She is later taken care of by Finch and Reese at The Library until they can safely give her to her mother's parents Sammy and Veda Cruz, who wish to keep her upon learning about her existence. However, she is kidnapped by the hired people, leading Reese and Finch to go after her. Afterwards, Reese finally manages to save her and she is finally given to her grandparents, who are joyous upon her arrival.
Ad blocker interference detected!
Wikia is a free-to-use site that makes money from advertising. We have a modified experience for viewers using ad blockers

Wikia is not accessible if you've made further modifications. Remove the custom ad blocker rule(s) and the page will load as expected.