Leslie Powell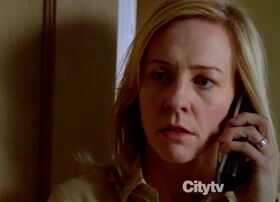 ---
---
---
Residence
New York, NY, USA
---
---
---
Leslie Powell is Scott Powell's wife and mother of their two children. She did not know of her husband's unemployment, and was very scared and surprised when he was charged with Michael Delancey's murder.
With the help of Reese and Joss Carter, Leslie is able to discreetly speak to her husband on the phone and he assures her of his innocence and promises to make things right with his lies. Shortly afterwards, Scott surrenders himself to the police after the killer after him is disposed of by Reese. Scott is eventually exonerated by the efforts of Harold Finch and Zoe Morgan and Leslie is reunited with her husband after the police drive him home. Though the two are mobbed by reporters, Zoe is able to make them leave the Powell family alone. Finch later tells Reese that he is giving Scott a job with one of his companies that will help ease the family's problems.
Ad blocker interference detected!
Wikia is a free-to-use site that makes money from advertising. We have a modified experience for viewers using ad blockers

Wikia is not accessible if you've made further modifications. Remove the custom ad blocker rule(s) and the page will load as expected.