List of Literature
Talk

0
735pages on
this wiki
This is the spot to discover all of the literature featured in the Person of Interest. The books could be seen in the show or mentioned by the characters.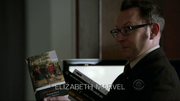 It Can't Happen Here by Sinclair Lewis. Finch is seen reading a first edition of this book when he meets with Reese for a breakfast meeting. ("

Judgment

") Finch later brings a newer edition of the same book for Reese to read while recovering from his gunshot wound. ("

Super

")
The Count of Monte Cristo by Alexandre Dumas. The book is laying on a table in the apartment where Reese and Elias are hiding from the Russian mob. ("

Witness

")
The Ghost in The Machine by Arthur Koestler. Reese picks up this volume from a shelf at the Library and a picture of a younger Finch and Nathan Ingram falls out. ("

Number Crunch

")  ("

God Mode

")
The Apocryphal literature; a brief introduction by Charles Cutler Torrey. One of the books that form Special Agent Donnelly's Social Security Number. ("

Prisoner's Dilemma

")
Design methods: seeds of human futures by J. Christopher Jones
Finch uses the name of one of the characters in It Can't Happen Here as an alias later in the episode.
Jim Caviezel starred in a 2002 production of Count of Monte Cristo.
Our Mutual Friend was Charles Dicken's last completed novel (1864/65).