Lou Mitchell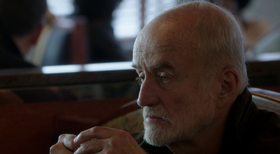 ---
---
---
Occupation
Card Sharp
Watch Repairman
---
Residence
Atlantic City, NJ, U.S.
---
---
Lou Mitchell is a former card sharp turned watch repairman, who was forced to help launder drug money for Dario Makris.

According to Lou he is the best Card Sharp in all of Atlantic City but 40 years ago the mob caught Lou sharping, broke his fingers, and left him for dead. A waitress named Marilyn found him in a dumpster and nursed him back to health. Thanks to her, Lou gave up gambling and became a watch repairman. He later married Marilyn.

When Marilyn was diagnosed with cancer, Lou went back to his card sharping skills, and scammed a lot of money from Makris' casino to pay for stem cell treatment. Marilyn died nevertheless and Makris found out about Lou's card sharping skills. He then forced Lou to launder money from him. Lou was provided with Makris' drug money, which he was forced to lose at the casino. But he started skimming money to buy the Diner where Marilyn had worked, which Makris was looking to tear down to build a parking space.

When his number came up, Reese and Finch traveled to Atlantic City and started trailing him. When Makris found out about Lou stealing from him, he sent his men to kill him. However, Reese was able to intervene and save Lou's life. Finch gives him money and a bus ticket to Chicago to keep him out of harm's way, but he returns to Makris' casino to win back the money he laundered for Makris. With Finch staking him for $2 million and Reese protecting him Lou starts using his card sharping skills and winning big. He ends up winning over $20 million. Finch also breaks into the casino and gathers evidence of money laundering by Makris. However Lou, Finch, Reese and Leon, who was helping them, are captured by Makris. Reese is able to free himself and take out Makris' men, while Lou, using his swapping skills, removes the bullets from Makris' gun and then knocks him unconscious with a punch.

With the police holding the older man's winnings as evidence, Finch requests that Lou fixes the $2 million watch that Reese received from Logan Pierce ("One Percent") and accept a suitable fee, so that he can buy the Diner where Marilyn had worked. Lou thanks him, and mistakenly assumes that the woman Finch was earlier talking about having lost was dead. He quickly realizes that the woman is still alive, and tells Finch to go to her while he still has time.