Detective Louis Azarello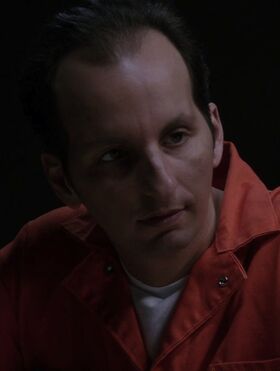 ---
---
---
---
Date of birth
July 1, 1970
---
Occupation
Police detective
---
Residence
New York, NY, USA
---
---
---
---
Detective Louis Azarello is a corrupt police officer, who worked under Diane Hansen and James Stills.
Working with Detective Stills, Azarello was responsible for killing many drug dealers and gang members and illegally selling their product. Stills used Fusco to help them cover their tracks. ("In Extremis")
Being a part of Hansen's ring, Azarello took part in the crimes organized by Hansen, and the framing of innocent civilians. He took part in the kidnapping attempt of Michael Pope, which was thwarted by John Reese.

Azarello was part of the mission to murder James Wheeler, Hansen's ex-boyfriend and co-Assistant District Attorney who suspected of her shady business. However Reese was able to intervene and save Wheeler's life.

He was arrested along with Doyle by Joss Carter. ("Pilot")
Later, under instructions from HR, he revealed to Internal Affairs that Fusco had "murdered" Stills and buried him in Oyster Bay. Carter paid him a visit in jail in an attempt to get Internal Affairs off of Fusco but he did not co-operate. However, Elias upon Finch's request, convinced him to recant his statement. ("In Extremis")
Ad blocker interference detected!
Wikia is a free-to-use site that makes money from advertising. We have a modified experience for viewers using ad blockers

Wikia is not accessible if you've made further modifications. Remove the custom ad blocker rule(s) and the page will load as expected.