Luciano Grifoni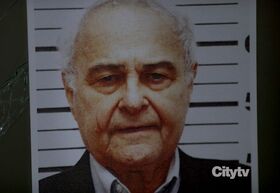 ---
---
---
---
Residence
New York, NY, USA
---
---
---
---
Luciano N. Grifoni is one of the five heads of the Italian Mafia dons targeted to die by Carl Elias and the only one who is still alive. ("Flesh and Blood") After being the only survivor of Elias attack, he goes into witness protection.
He later gets in Elias' good graces and helps set an ambush for Lionel Fusco and another HR cop named Bowman, killing the latter. He then tells Fusco to pass the message to HR that Elias is through with them. ("C.O.D.")
Ad blocker interference detected!
Wikia is a free-to-use site that makes money from advertising. We have a modified experience for viewers using ad blockers

Wikia is not accessible if you've made further modifications. Remove the custom ad blocker rule(s) and the page will load as expected.