Manuel Rivera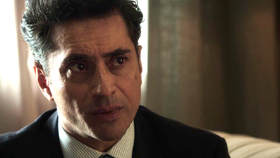 ---
---
---
Occupation
Intelligence adviser to POTUS
---
Affiliation
U.S. Government
---
---
---
---
Manuel E. Rivera is the Intelligence Adviser for the President of the United States. He has children that were threatened by a terrorist plot that was foiled when the Machine gave terrorist's number to the government and Sameen Shaw thwarted the plot.
Rivera is among five Numbers the Machine gives to Root and Reese. A colleague of Ross Garrison, Rivera agrees to meet with him and Control to discuss using Samaritan as an alternative to Northern Lights. Rivera is apprehensive. Control reveals some details regarding a foiled terrorist attack, that might have endangered the school his children attend. Rivera agrees to review the file Samaritan developed on Vigilance, along with the recommendation to restore Samaritan's access to government feeds. The meeting is then interrupted by Shaw who Control reveals to be the operator who stopped the terrorist attack that threatened Rivera's children. Shaw is able to convince the group of the threat, but they are ambushed by Vigilance and Rivera is captured. Along with four other people linked to the Machine, he was abducted by Vigilance into a Kangaroo court. ("A House Divided")
After being questioned, he is shot by Peter Collier after getting in a shouting match with him claiming that he was not part of a criminal conspiracy against the people of the United States. ("Deus Ex Machina")
Appearances
Ad blocker interference detected!
Wikia is a free-to-use site that makes money from advertising. We have a modified experience for viewers using ad blockers

Wikia is not accessible if you've made further modifications. Remove the custom ad blocker rule(s) and the page will load as expected.