Mark Lawson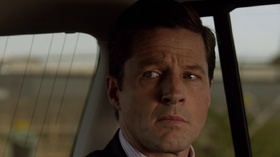 ---
---
---
Occupation
CFO at Virtanen Pharmaceuticals
---
Residence
New York, NY, USA
---
---
---
---
Mark Lawson is the CFO of Virtanen Pharmaceuticals, Robert Keller's son-in-law, and the official heir to the Virtanen empire.
He covered up the deaths of 6 people who died from using their new drug Sylocet, to ensure FDA approval. He also had Dana Miller killed when she threatened to expose him.
After catching Zoe Morgan and John Reese stealing files on Sylocet, Lawson had Samuel Douglas stay behind to kill Reese while he went to find a copy of the report on the drug that Zoe had emailed to someone she trusted. After being taken to a gang friendly to Zoe, Lawson realized that Zoe had emailed it to herself and planned to kill her. However, Zoe had managed to alert Harold Finch to where they were going and she was rescued by Reese who shot Lawson's driver and tasered Lawson himself. With the report and Zoe's recording, Lawson and Keller were arrested on charges of fraud, conspiracy and murder and Syloct was shelved. ("The Fix")
While working on the case of stock broker Adam Saunders, Reese sees a news report on Keller's trial with dialogue suggesting that Lawson managed to remain out of prison and running the failing Virtanen. After Keller is found guilty on all charges, the news announces that charges were immediately filed against Lawson. ("Risk")
Ad blocker interference detected!
Wikia is a free-to-use site that makes money from advertising. We have a modified experience for viewers using ad blockers

Wikia is not accessible if you've made further modifications. Remove the custom ad blocker rule(s) and the page will load as expected.