Martin LeRoux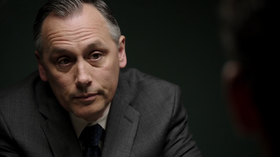 ---
---
Occupation
FBI Agent
Samaritan operative
---
---
---
---
Martin LeRoux is an FBI agent who was secretly working for Samaritan as an assassin.
LeRoux was tasked along with Detective Joseph Soriano to question Fusco regarding the shooting of Dominic and Elias. He helped cover up the incident to stop Fusco from further investigating the assassinations. However, Soriano remained skeptical and questioned LeRoux regarding the ballistic report. Samaritan then marked Soriano as an obstructionist and had him killed to cover its tracks. ("B.S.O.D.")
LeRoux later kidnapped Fusco after he continued to investigate the Samaritan related disappearances and confessed that he was the one responsible for the deaths of all the people found in the now demolished tunnel including Bruce Moran, Howard Carpenter and Krupa Naik.
LeRoux shot Fusco in the back but he survived on account of wearing a bullet-proof vest, he overpowered LeRoux and stole his gun. Fusco is left wondering whether or not to kill LeRoux to protect his family or not. (".exe")
When facing assassination by dirty cops bribed by Samaritan, Fusco reveals that he did in fact kill LeRoux and stuffed him in a car trunk, quipping that he hadn't changed that much since this is something he would've done as a member of HR. ("return 0")
Victims
Appearances
Season 5