Monica Ramirez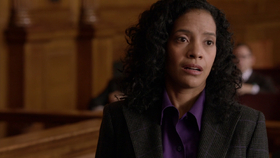 ---
---
---
---
Residence
New York, NY, USA
---
---
Monica Ramirez is a prosecutor working for the District Attorney's office.
She is the prosecutor on the Angela Markham hit and run case. Her case was hindered by Judge Samuel Gates as Jarek Koska and SP-9 had kidnapped his son and was demanding that Angela be acquitted.
She is later anonymously given a file by Finch containing records of the money laundering that Angela Markham had done at Onestate for SP-9.
Ad blocker interference detected!
Wikia is a free-to-use site that makes money from advertising. We have a modified experience for viewers using ad blockers

Wikia is not accessible if you've made further modifications. Remove the custom ad blocker rule(s) and the page will load as expected.