Captain Moreno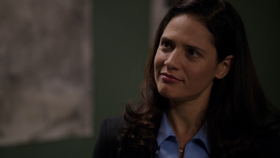 ---
---
---
---
---
---
Moreno is the new captain of the New York Police Department 8th Precinct.
She is first seen reprimanding Reese, undercover as John Riley, and his partner Fusco, for shooting a perpetrator in the knee in the middle of Manhattan. She clearly shows disappointment in their actions, and tells them to get their act together.
However she later works with Reese and helps him get the confession of two suspected murderers. Impressed by Reese's quick results she comes to value him as a good detective. On the recommendation of Internal Affairs she arranges for Reese to see Dr. Iris Campbell, a psychiatrist.
Ad blocker interference detected!
Wikia is a free-to-use site that makes money from advertising. We have a modified experience for viewers using ad blockers

Wikia is not accessible if you've made further modifications. Remove the custom ad blocker rule(s) and the page will load as expected.