Nagel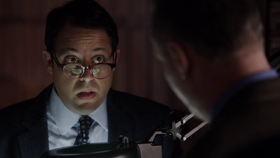 ---
---
---
Residence
New York, NY, U.S.
---
---
Nagel works at an auction house in NYC where he determines whether items are fake or not.
Raymond Terney and Hayden Price brought him a $4,000,000 baseball signed by the 1922 Yankees baseball team. Nagel pointed out Babe Ruth's signature was signed in felt pen, declaring the ball a fake because such pens didn't exist yet in Ruth's time.
Ad blocker interference detected!
Wikia is a free-to-use site that makes money from advertising. We have a modified experience for viewers using ad blockers

Wikia is not accessible if you've made further modifications. Remove the custom ad blocker rule(s) and the page will load as expected.