This article discusses a group, project, or location which also exists outside the Person of Interest universe.
Its portrayal in the show may differ significantly from its real-world counterpart.
Ordos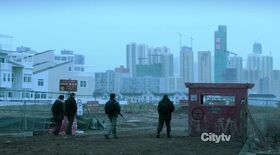 ---
---
---
---
---
Ordos is a city in China where John Reese and Kara Stanton were sent to in order to retrieve a laptop with what they were told was a Stuxnet-like virus.
According to Mark Snow, Ordos is a company town in the middle of China. Despite the fact that was built for a million people, nobody lives there. It was also intended that Stanton and Reese would eliminate each other at the end of the mission.
History
2010
Reese and Stanton arrive in Ordos and find the city deserted and apparently placed under quarantine because of the bird flu. Stanton, however, suspects that these signs were merely to scare off the locals in order to protect the computer facility. When they reach the facility that holds the laptop, they find most of the employees dead, with only one man still breathing. Stanton shoots him after she hears him mentioning the Machine. After they retrieved the laptop and are waiting for extraction in an empty factory, Reese follows his instructions to shoot Stanton but backs off at the last moment. Stanton who was also instructed to kill Reese, turns around and shoots him in the stomach. With a sly grin of understanding, Reese tells her that they were both played, and stumbles away. Seconds later, the factory is destroyed by a missile. Assuming that Stanton has been killed in the blast, Reese returns to New York. ("Matsya Nyaya")
Stanton also survived the attack but is critically injured. When locals find her and bring to a hospital in Dongsheng, she is approached by Greer, a mysterious man who claims he has been following her CIA activities and appears to have knowledge of the Machine. He shows her the laptop and implies that he would want her to work with him. ("Dead Reckoning")
2011
Stanton is still recovering from her injuries in the hospital when Greer visits her again. She figures he is not part of the Chinese Ministry of State Security (MSS), but cannot identify him any further. Greer offers her answers in return for her assistance. ("Dead Reckoning")
Images
Real location
The real Ordos (Chinese: 鄂尔多斯市) is a prefecture-level city located in Inner Mongolia, and not as deserted as it appears. There are around 1.5 million people living in eight districts with Dongsheng district as the administrative seat. Because of significant reserves of coal and natural gas, Ordos is one of the richest regions in China.[1] Reese and Stanton were actually sent to Kangbashi, another district of Ordos and home to a largely uninhabited real estate development that was constructed to house a million people. Its current population, however, only amounts to a few thousand, mostly government staff and migrant workers who were hired to build the city. Prospective homeowners stayed away for several reasons such as lack of infrastructure, weather conditions and overpriced property. Kangbashi stands as an example for property oversupply that is prevalent in many other cities in China.[2]
Trivia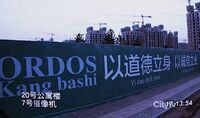 The Chinese motivational banner that can be seen towards the end of the flashback in the episode translates to "Establish yourself with moral, start a career with honesty". Banners like that are very common in Chinese cities.
The information in the security feed indicates the number of the camera and the part of the city (residential areas, bridges, highways etc.) that is under surveillance.
When Reese and Stanton arrive in Ordos, they are actually at a housing development under construction on Long Island. The Ordos skyline was spliced in afterwards.[3]
References
Ad blocker interference detected!
Wikia is a free-to-use site that makes money from advertising. We have a modified experience for viewers using ad blockers

Wikia is not accessible if you've made further modifications. Remove the custom ad blocker rule(s) and the page will load as expected.